Diamond-Plate Mats
Industrial Matting's Hall of Famer
Wearwell made matting history in 1989 with the introduction of the Diamond-Plate mat surface, the most popular industrial matting design in the world. Diamond-Plate did more than prevent slips and falls – it introduced our revolutionary Nitricell® sponge material for improved comfort and safety beyond anything else in the game. Read More
Diamond-Plate Mats
Industrial Matting's Hall of Famer
Wearwell made matting history in 1989 with the introduction of the Diamond-Plate mat surface, the most popular industrial matting design in the world. Diamond-Plate did more than prevent slips and falls – it introduced our revolutionary Nitricell® sponge material for improved comfort and safety beyond anything else in the game.
Nitricell sponge outperforms the competition in critical areas, including:
Overall comfort
Lasting performance
Customization
Mat movement
Maximum standing area
Pre-beveled, lay-flat design
Since the original Diamond-Plate mat, we've continued to innovate. Today, we offer more alternatives than any competitor!   Find the values that fit your needs.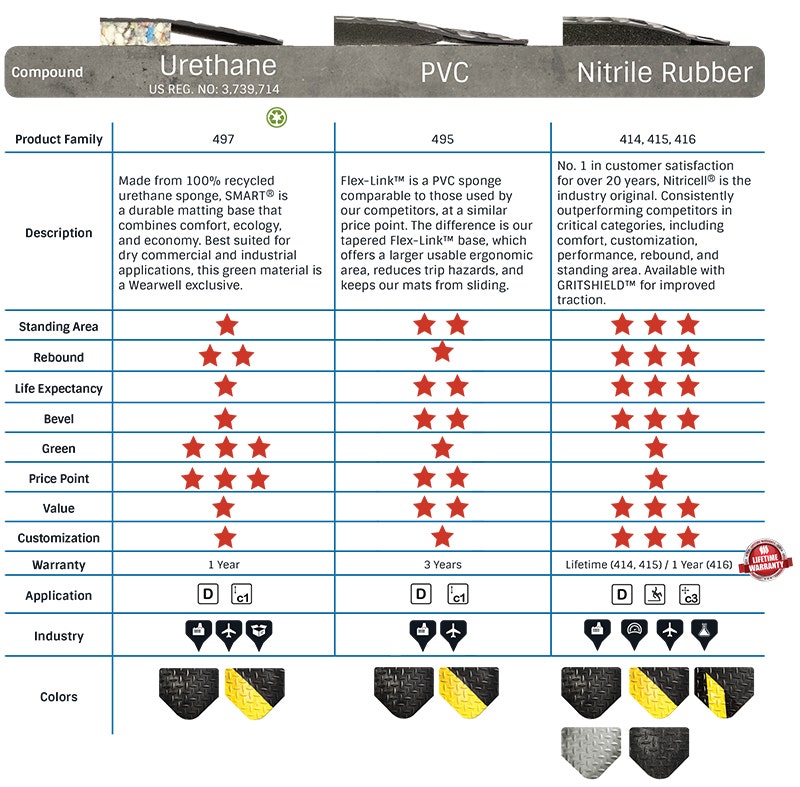 Don't risk your team on "look-alike" diamond-plate matting products. Choose the leader in ergonomic sponge technology and the #1 selling industrial matting surface in the world.
Read Less