ErgoDeck® MAX
For Anti-Fatigue "To-the-max"
We've taken our two leading edge products and created an unparalleled flooring solution! Gone are the days of having to choose between comfort and customization. Introducing a modular tile that takes flexibility, performance and safety to the max - ErgoDeck® MAX. We joined together our innovative ErgoDeck® modular tiles and our proprietary Nitricell® premium sponge, to create a modular floor tile system that provides superior rebound for your Industrial Athletes.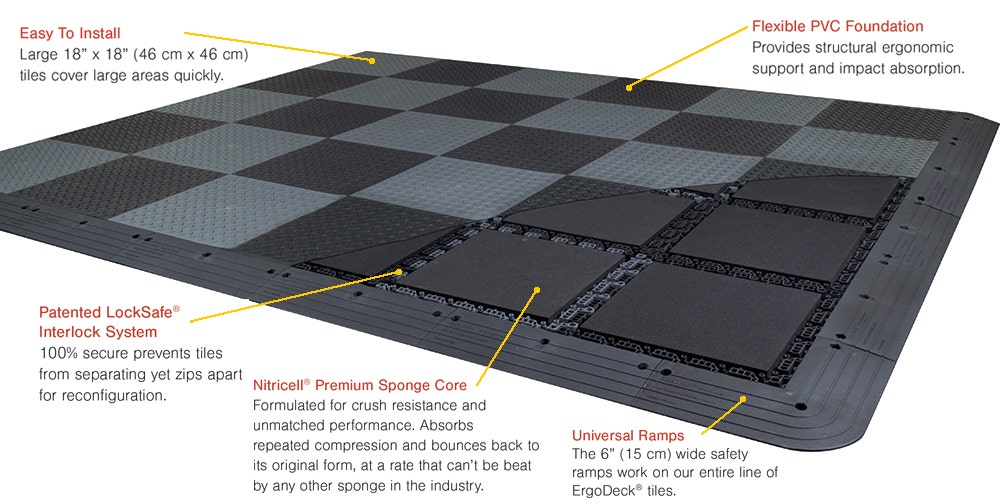 Solid ErgoDeck® Surface provides
agility for the Industrial Athlete

Nitricell® Premium Sponge core
for the ultimate in anti-fatigue
The Reviews Are In! And They're Spectacular!
"From the moment I stepped on ErgoDeck MAX I've been impressed. It has the ergonomic feel of 414 and the durability, modularity and flexibility of Ergodeck.
The best of both worlds rolled into one mat. Guaranteed to be a winner."

"The best of all worlds. The comfort of sponge, with the durability of PVC, and the modularity that only ErgoDeck can provide. "

"Wow! This takes anti-fatigue to a whole new level!"

"I can't believe it. Why didn't anyone think of this before?"