Ergonomic Flooring
Modular, interlocking tiles that can create a
floor above a floor. Think in terms of wall-to-wall carpeting.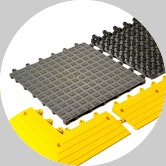 What is Flooring?
Flooring is made up of modular interlocking tiles that can go as long or wide as you need. Wearwell's patented locking system holds tiles together but can be unlocked and relocked without tools or big muscles.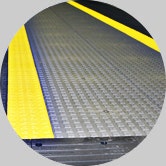 Why Choose Flooring?
Most workers don't just stand – they move. Flooring can be installed wall-to-wall to protect against slips, trips, falls, heel strikes, back pain and muscle aches. Flooring comes in multiple styles to help you create durable, high visibility paths.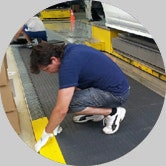 How Do I Install Flooring?
Just connect the tiles and trim them to accommodate your space – no adhesives or fasteners required.
Ergonomic Matting
An anti-fatigue solution designed to cover
a single work station. Think in terms of a rug.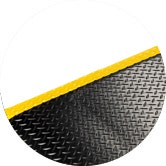 What is Matting?
The economical, tried-and-true anti-fatigue solution for workstations and assembly lines. Most mats are standard or custom geometric shapes that can be easily dropped in place. Some mats are available in long rolls that can be laid out quickly along aisles or staging areas.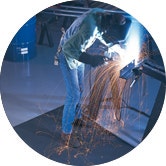 Why Choose Matting?
Matting is your easy-to-install defense against fatigue in a wide variety of applications. Studies show, too, that matting delivers quantifiable improvements in productivity and lost time.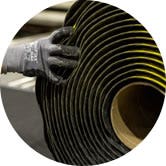 How Do I Install Matting?
Simply lay it down and roll it out like a rug or runner. Matting can also be made to specified lengths, widths and shapes.