Slips and falls – something you don't think about, but looking back you should have known it would happen.
Life gets hectic at work with efficiency, time management, and deadlines. It's easy to lose focus! When workers get into a groove at work, autopilot takes over. Being mindful of the work environment can prevent costly slips and trips from happening. After all, one misstep can create lifelong pain, and most of the time it could have been prevented!
Here are some of the some of the major causes of slips and falls at work: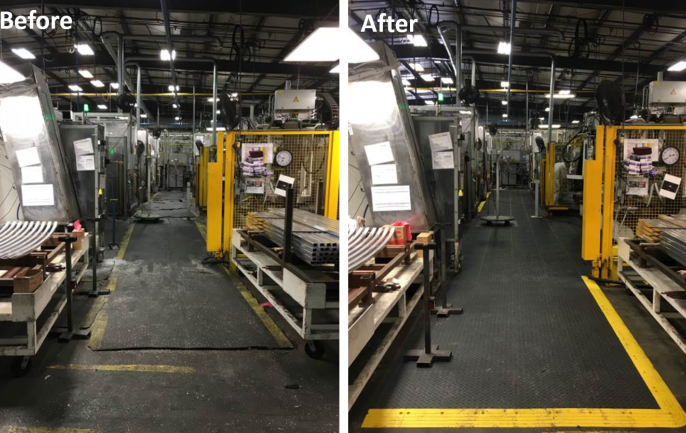 Surface height differences
Having an even workspace sounds obvious, but over time small protrusions, uneven mats, and planal shifts between floors occur and are often ignored! Rather than fixing it, human instinct is often to work around the problem.
While workers focus on their work, part of their brain is now subconsciously moving them around the hazard. This means workers cannot focus 100% of their attention on the job at hand, and it means you are essentially making a bet that that their subconscious will avoid a hazard at a statistical rate of 100%, day after day. Whether that's 10/10 times per day, or walking over an uneven surface 1000 times a day. The odds of something happening just one time will have you looking back and kicking yourself for not fixing the hazard in the first place.
One Recommendation is to elevate the users above the hazard with an ergonomic or slip resistant flooring like ErgoDeck. These types of Ergonomic floors can cover up damaged concrete, elevate users above small protrusions, and can even be used on a sloped floor without causing a hazard.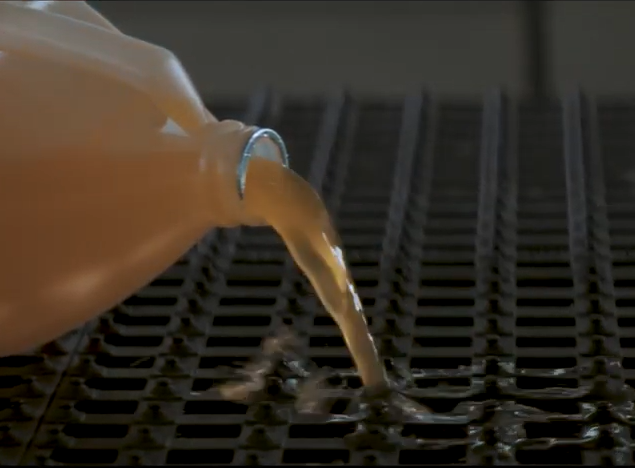 Surface exposure to wet and oils
Many people work in environments that are wet, oily, slippery, and overall difficult to stand in. Slippery floors are a major cause of injury, and many injuries come from simple near-fall reactions (where someone catches themselves but is injured due to the reactionary movement.) Slippery areas MUST be address with a proper traction solution. There are several wet area or dry area ergonomic mats and safety floors that can offer traction on dust, oil, and totally allow users to plant, walk briskly, and work more efficiently in these environments.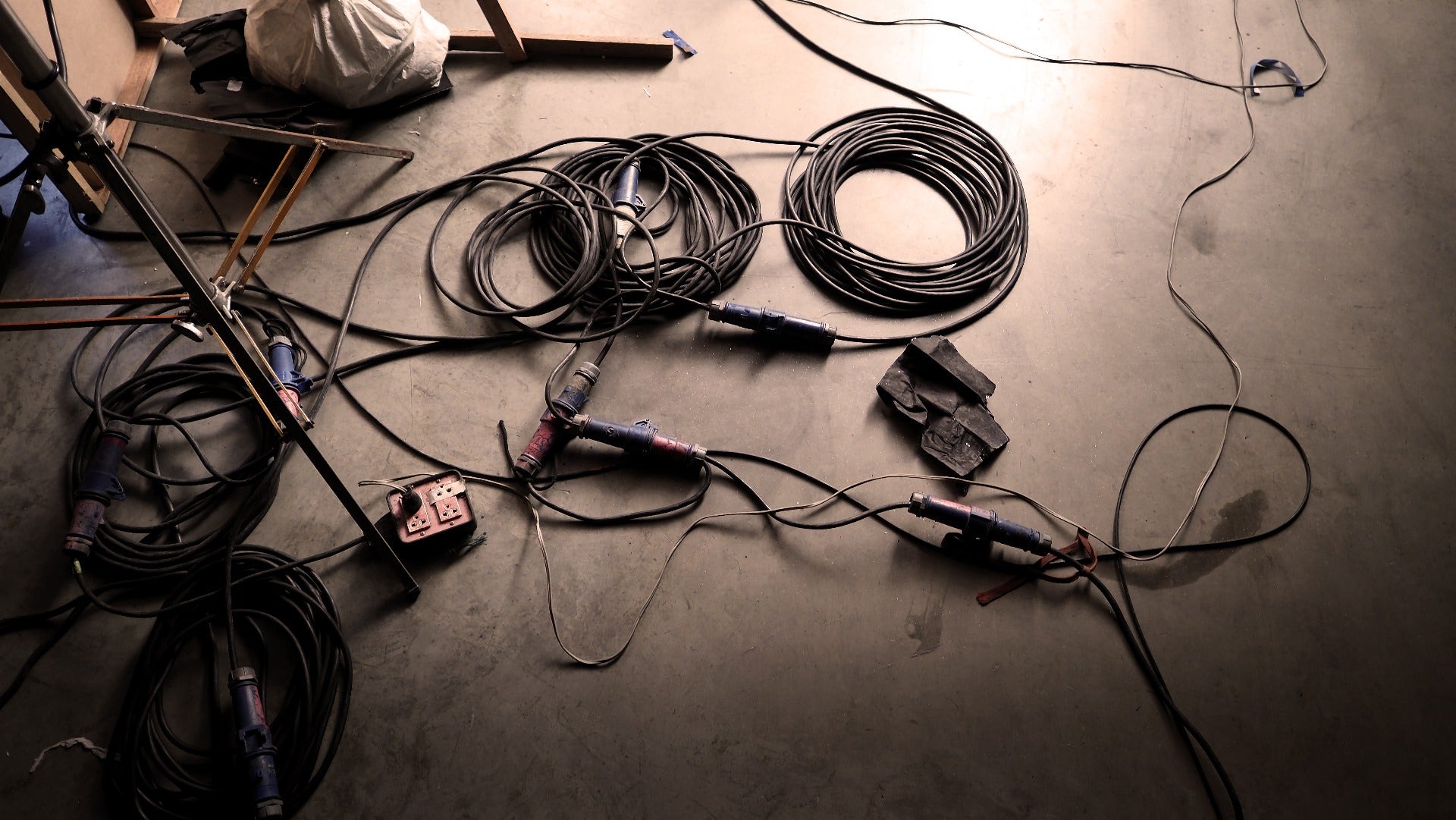 Miscellaneous flooring hazards:
Stray cords, cables, air hoses, and other miscellaneous items necessary to the workspace should always be taken into consideration as a slip/ trip hazard. Ask employees if they are stepping over or on any stray cords during the course of their shift.
One way to approach this is to have lines come down from the ceiling. When this is not feasible and lines must run across the floor, cable protection is the best way to protect personnel from dangerous slips and falls.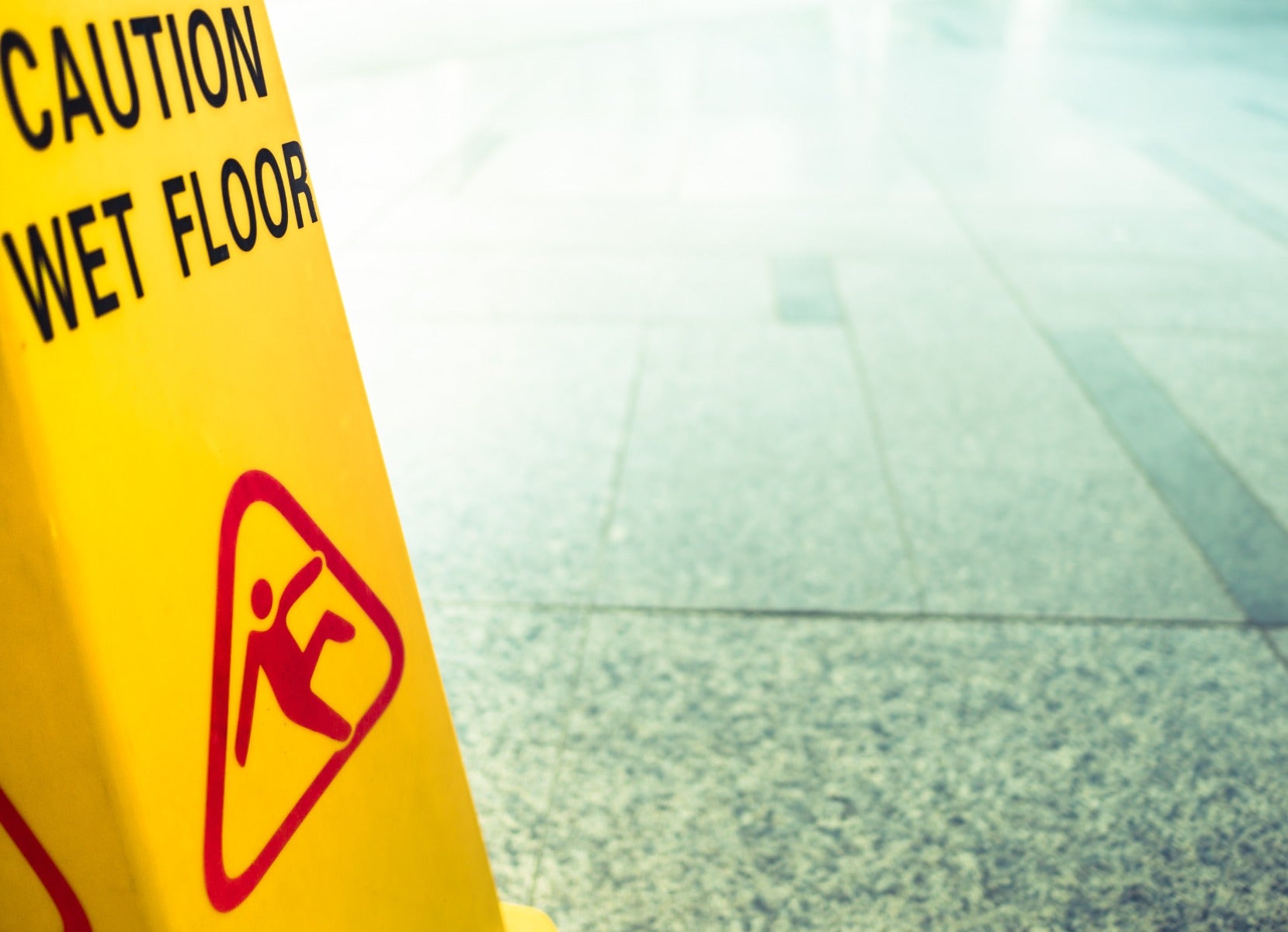 Prevent and Prepare:
To be prepared for the worst- we need to think ahead. What are some ways to prevent?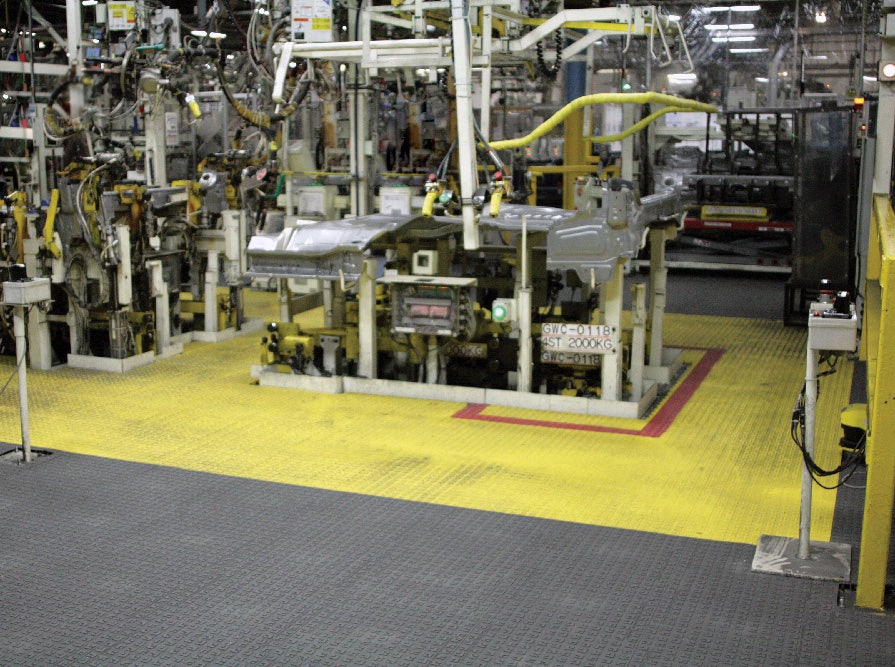 Visibility:
Use bright colors to alert workers to height differences, steps, and to outline workstations. Tapes can be used, but they often don't last and require ongoing maintenance. High visibility Ergonomic Flooring can be used to subconsciously help workers avoid hazards.
Be sure that any change in floor plane has a high visibility outline. This can mean a yellow safety border on a workstation mat, or a yellow safety ramp to allow for a smooth transition between concrete and an ergonomic floor.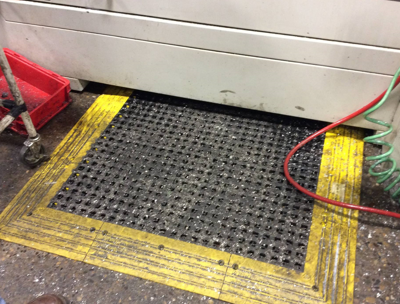 Traction:
Utilize mats and floor solutions that help keep your feet on the ground! Whether it be a dusty dry area, oily conditions, or a predominantly water-based environment, there are options specifically engineered for these areas. If not required already, encourage workers to wear sturdy shoes that keep good traction and support. There are many pieces to this puzzle!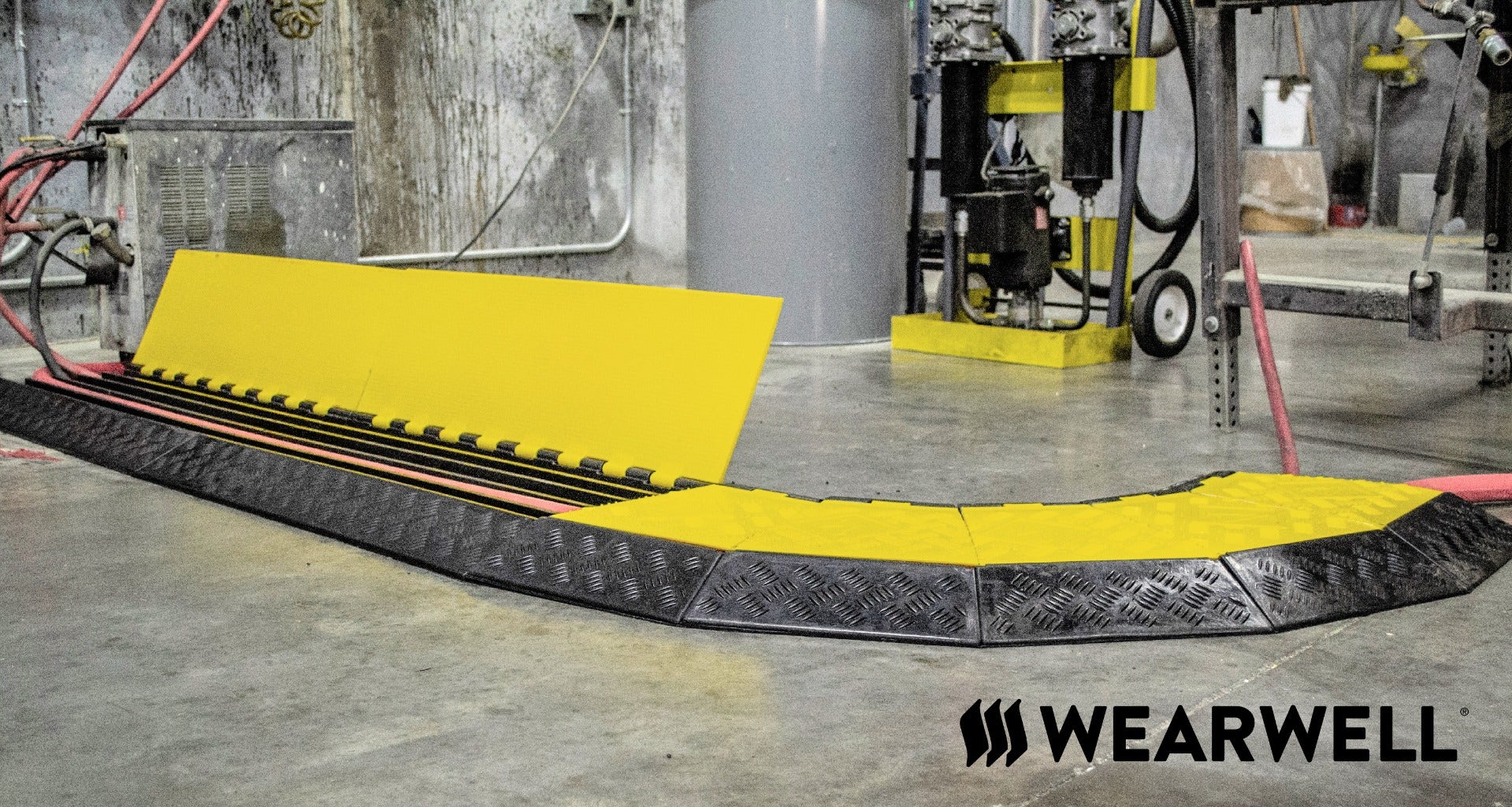 Organize Floor Hazards:
An organized and maintained work environment is key. Keep cords out of the way with cable protection to prevent injuries, and find a flooring option that fit your conditions. Whether you are in general manufacturing, food service, laboratory, of fulfillment, there are a variety of options that will reduce slips and falls in your workplace while optimizing efficiency and maintaining workflow.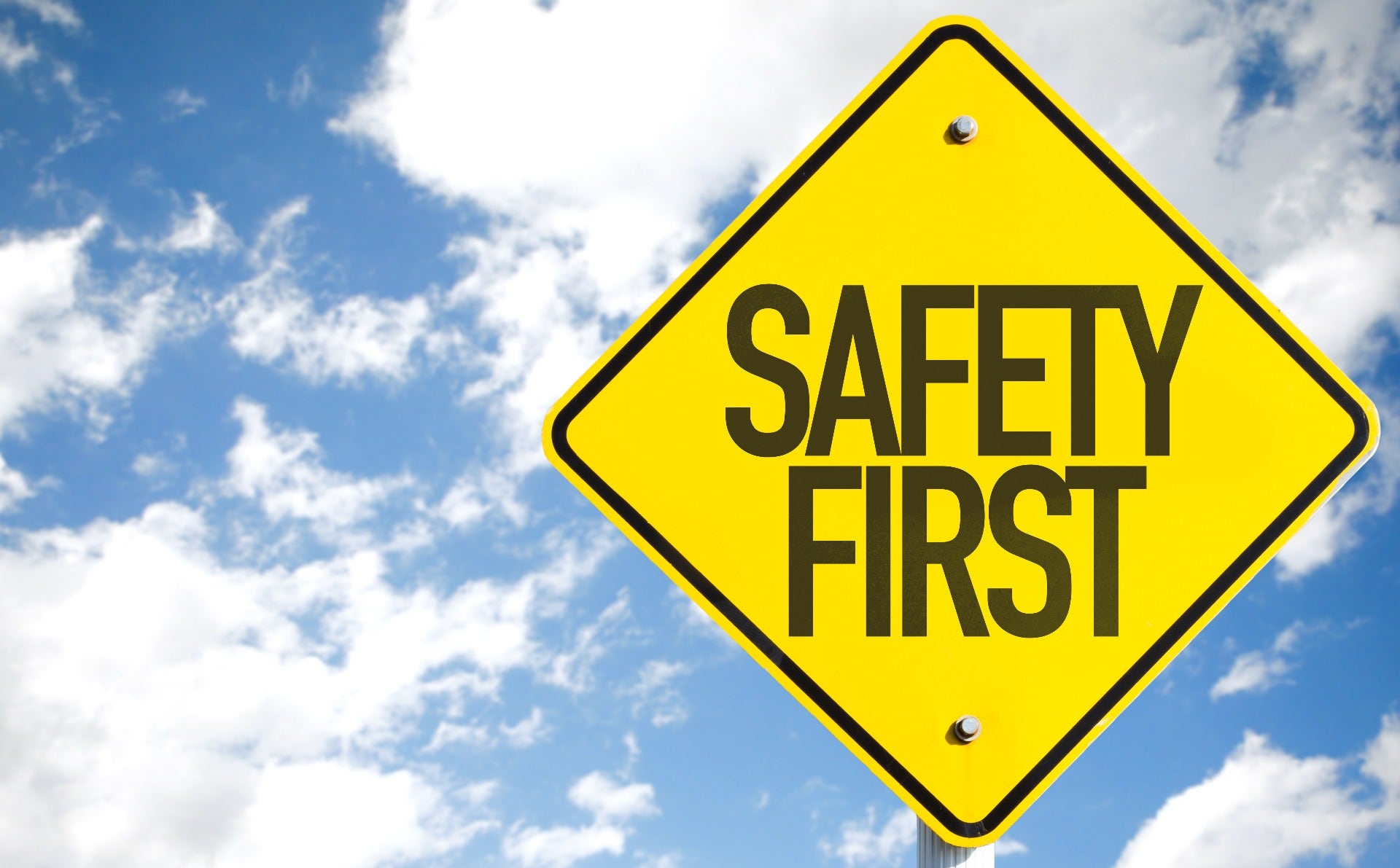 Should have, would have, could have:
Looking ahead and preparing your work environment for the "should have knowns" will prevent injuries while increasing certain efficiencies and time management. Don't wait until the injury happens. Look ahead at what areas in your work environment might be a hazard, and consult with a professional if you aren't 100% sure.
Not only does prevention help the company, but both you and the workers will have one less thing to worry about. Continual maintenance of the work environment is the best way to boost employee safety, morale, and show workers that the company is committed to their overall wellbeing. Investing in solutions that reduce workplace injuries will be worth your while!