You might remember a now familiar scene about product warranties from the movie "Tommy Boy". Since the language isn't really appropriate for a business blog post, we'll just paraphrase. The long and the short of it is, "a warranty is only as good as the company or individuals standing behind it." This is true regardless of industry or product type. The world of anti-fatigue matting and ergonomic flooring is no different.
Being Realistic About the Demands on Anti-Fatigue Floor Matting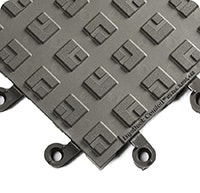 Anti-fatigue mats are used in very demanding applications. Thousands and thousands of hours of standing and walking traffic alone are enough to strain anti-fatigue materials and components to their limits. And that isn't the only thing that anti-fatigue floor mats are asked to do. In commercial, industrial, and manufacturing settings they need to withstand exposure to fluids and chemicals that end up on floors. Plus, they must be able to hold up to various and sometimes very aggressive cleaning and maintenance techniques.
Even more, anti-fatigue and ergonomic flooring must endure abrasives and sharps that are dropped onto the floor and then ground in by work boots. They need to survive vehicle traffic, including carts and material handling equipment that roll up onto mats, straining the limits of weight and edging capacity.  The list of demands that are literally "put on" floor matting goes on and on… welding sparks, moisture absorption, moisture drainage, temperature extremes, slippery oils and dust, UV exposure, aging, grates and catwalks, dirt and grime and more. Industrial companies don't treat their floors all that well and we all know that it's the floor mats and flooring that are going to take the brunt of the wear and tear.
Warranties - A Matter of Trust
Despite these undeniable challenges and obvious environmental realities, we've noticed that some manufacturers, will make ridiculous claims about the capabilities of their product, ones that defy logic and deny the obvious realities (perhaps just to win an order?). Here are a couple real-life examples.
In an effort to win an order for some white colored ergonomic flooring tiles, one company guaranteed that their tiles would "always stay white" and would be "easy to clean" even in the heavy industrial environment for which it was specified. The customer believed this and installed the product at no small expense.
Of course, white flooring doesn't really stay white in most facilities. And if you are going to make a product soft enough to be reasonable to stand on (that's why they call it anti-fatigue) some dirt and grime is going to wear into the surface over time. As a result, and in virtually no time, the white tiles were stained and dirty. The customer was unhappy – the product and company did not deliver as promised. When the customer attempted to make a warranty claim, they were told that it was their cleaning procedures that were the problem and not a warranty issue. In the end the company did not stand behind their product or guarantee. Perhaps Tommy Boy was right, "the guarantee is included just because they just want you to feel all warm and toasty inside."
Another tale of misguided "guarantees."
To gain an order for some general-purpose flooring tiles, one company guaranteed that their tiles would last for 20 years (funny because the manufacturer had only been in business for 7 years at the time) even more, their warranty covered "normal wear and tear." It doesn't take a lot of imagination to conjure up what 20 years of wear and tear might look like on even the toughest of the tough anti-fatigue matting product. Nevertheless, the customer bought into the hype.
Within 6 months of installation, some wear and tear became evident. A small portion of the flooring was replaced, no problem. After another 3 months, the same thing. And another replacement. After a year, the third round of wear and tear replacement was requested.  At this point, the manufacturer claimed that the wear and tear was not, "normal wear and tear" and no additional warranty replacements would be available.  Within just 3 years the customer was left in the cold and completely removed the flooring for reasons of excessive damage and wear. So much for that "20-year guarantee."
The Indicator of Trust and Expertise
Unfortunately, examples like this are abundant. They give the entire anti-fatigue matting and ergonomic floor tile industry a black eye. Thankfully, there are legitimate suppliers that maintain the integrity of what a warranty truly means. 
In contrast, Wearwell offers a Lifetime Warranty against defects in materials and workmanship for many of their product lines (ErgoDeck for example). Because Wearwell controls the materials and workmanship that go into their products, they can confidently stand behind them, they know they are the best.  Wearwell has honored this warranty for over 75 years, and it is part of the reason Wearwell is the most recognized brand and #1 in market share in the anti-fatigue matting and ergonomic flooring industry.
Even Tommy Boy understood, It's a matter of who you can trust.