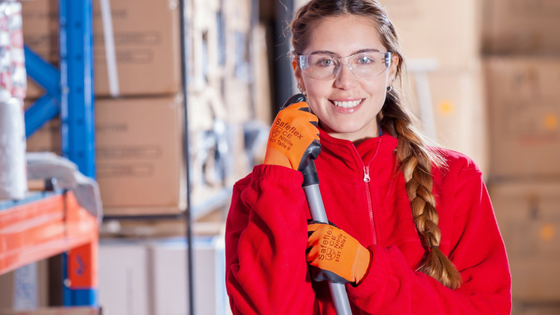 As an industrial manager in the 21st century, you know that employee job satisfaction is important for team performance in day to day operations. Your employees want to know you have their attention. One of the best ways to show your acute attention is to articulate this with action steps that impact your employees for the better every day. Your employees will know you care when you implement these 4 action steps:
1. Provide a little Summer fun.
You can back up your awareness of the industrial workplace environment by showing you notice life outside the office too! Allowing outdoor activities and breaks from the daily plant schedule lets your employees know that you care. From Memorial Day to Labor Day try hosting a weekly or monthly floor department drawing for a summer schedule switch-up, where individuals win coupons. An employee could win a summer sleep-in day, long lunch break coupon, or save several coupons and earn a chance for early leave from the day. Hold a drawing each week announcing winners by the end of the summer. Everyone wins at least twice during the summer months.
2. Give them a NEW solid foundation to stand on.
The NEW ERGODeck MAX fuses our patented modular tile system and our premium Nitricell sponge to create the superior system on the market.
'It's a surface I feel safe on and I realized I didn't take any of my back pain medicine this afternoon!'
We are invested in your employees, our industrial athletes, as much as you are. As their manager, employees look to you for leadership that shows you have their back (literally!) by keeping up with the best infield technology. Both you and your teams will intrinsically know 'comfort with market share' can coexist.
3. Offer Tickets to a Company Charity
Help out a local charity and show some love to your employees in the same evening by including them in a company charity event. This a great way for your company to assist in the local community and show you trust your staff to represent the company brand.
4. Let an employee choose
Diamond-Plate Runners, are tried and true protectors from heavy foot traffic and increases traction. Seven (7) signature mats to choose from prove why this product celebrates its 25th Anniversary.
Industrial strength and aesthetics
Protects floors from heavy foot traffic
Provides extra traction, 3/16" (5 mm) thick
Don't know which one is right for you? Let your employees research and select a sample! Electro-Static Dissipation (ESD), Industrial Anti-Fatigue, and Walkaways are a few of the many Wearwell samples that always deliver and exceed expectations.
5. Simply take the time to listen
Your time is very valuable. There just does not seem to be enough of it in a day. It's critical, however, to take the time to stop and be intentional about listening to your industrial employees. You know your employees recognize you value them when you listen to them. Taking the time to show you care in a casual conversation or a more intentional dialogue will show them you are paying attention!

Being a manager is challenging. Wearwell wants to assist and reassure your employees that you care while you are making some tough decisions in other areas. Wearwell products demonstrate excellence and value. We want to help you pay attention to your employees by providing a strong foundation to stand on. Contact us for more information.